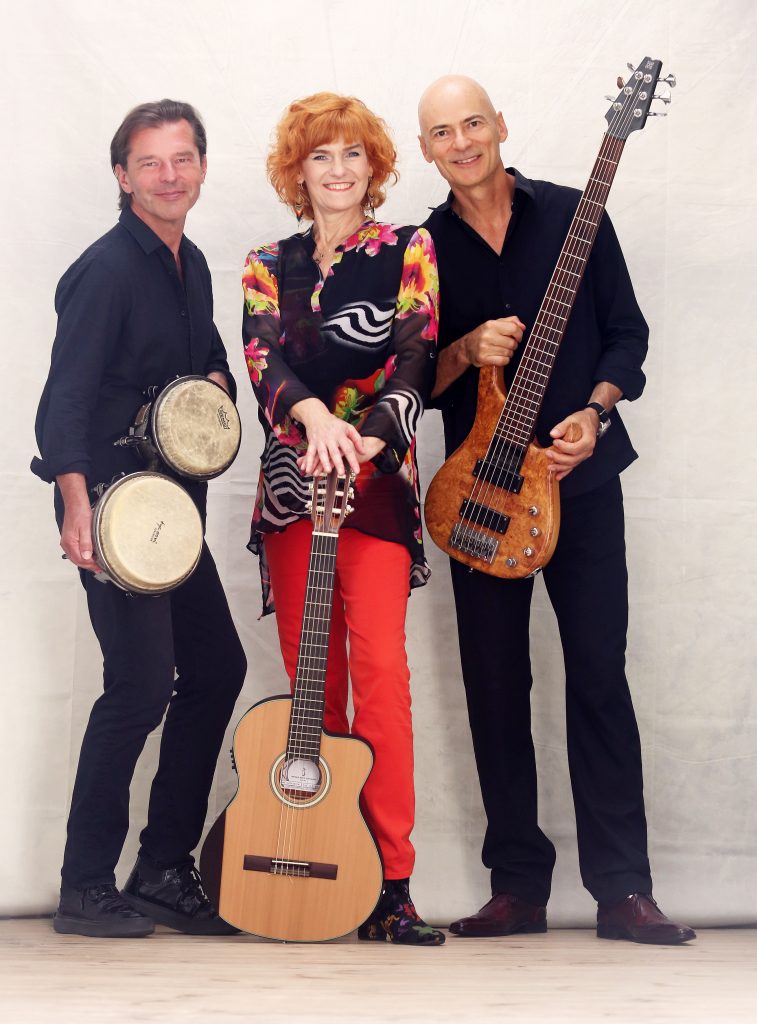 Lisa Rabél Trio
Die Austro-Mexikanerin übersiedelte nach ihrem Konservatoriumsabschluss (Gitarre, Musical) in Wien zu Studienzwecken erst nach Spanien und anschließend nach Mexiko, wo sie anfangs als Gesangsstudentin und in Folge als Profimusikerin lebte.
Nach Wien wieder zurückgekehrt baute sie eine "Latin-Szene" auf,absolvierte Auftritte in ganz Österreich und veröffentlichte drei Soloalben.
Mit ihrer dynamischen Rhythmusgitarre sowie besonders markanten Stimme entfacht sie ein Feuerwerk an Stimmung.
Der musikalische Bogen spannt sich von Eigenkompositionen (Rumba,
Bolero, Bossa Nova, Cha-Cha), bis zu beliebten mexikanischen und brasilianischen Lieder.
Dabei wird sie von zwei hervorragenden Musikern begleitet:
Hannes Steif: Bassgitarre – Seit 1990 in Wien und als freiberuflicher Musiker, Komponist und Instrumentalmusiklehrer tätig. Live und Studio mit: Monti Beton, Pete & the Rockets, Tamee Harrison, Bilgeri, Harri Stojka, The Real Stardust Babies, Der Sandmann, Sabine Petzl, The Surfing Zebras, Alf Poier, uva.
Andi Steirer: Percussion, Gesang – In den 90ern lange Zeit bei Austria 3, Rainhard Fendrich, Tony Wegas und Ludwig Hirsch; heutzutage unterwegs mit dem brasilianischen Meistergitarristen Alegre Corrêa, mit der Souldiva Dorretta Carter als auch mit Mezzosopranistin Angelika Kirchschlager und ihrem Erfolgsprogramm "Broadway Songs".